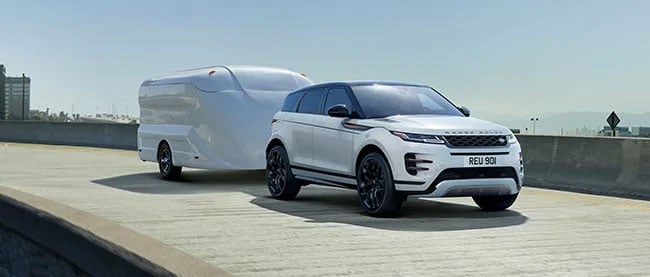 The 2020 Range Rover Evoque can tow up to 3,968 pounds, which gives you more than enough capability for some family adventures. Let's take a closer look at the Range Rover Evoque engines and the equipment you need to tow. We have this model available at Land Rover Cherry Hill.
Range Rover Evoque Towing
You can tow 3,968 pounds with any of the Range Rover Evoque models you choose. In addition, you will want to know these valuable specs.
Ground Clearance: 8.35-inches
Roof Carrying Capacity: 165 pounds (with roof rails)
Maximum Combined Vehicle and Trailer Weight: 9,325 pounds
The Evoque also comes with your choice of two engines. The 2.0-liter four-cylinder turbocharged motor pumps out 246 horsepower and 269 pound-feet of torque. The 2.0-liter four-cylinder turbocharged motor with a mild hybrid powertrain provides 296 horsepower and 295 pound-feet of torque.
Along with the towing capability, you also want to know about the advanced performance and safety features of this model. At your Cherry Hill Range Rover dealer, you can find these additional perks:
Active Driveline Dynamics – corrects understeer and oversteer
Standard AWD – includes the benefits of Torque Vectoring, which automatically directs the torque to the wheels needed to provide the best grip
Sports Command Driving Position – provides the best view of the road
ClearSight Ground View – utilizes mounted cameras to display the road beneath the SUV to choose the best path
Drive a 2020 Range Rover Evoque
With the Evoque towing capacity, there's no limit to the fun you can create. Take your family to the lake for the weekend with the boat or pull a small camper for a night in the woods. The Evoque is comfortable, stylish and capable, making it the perfect family vehicle. Visit us today to take this sleek model for a test drive and you can experience the adventure for yourself.