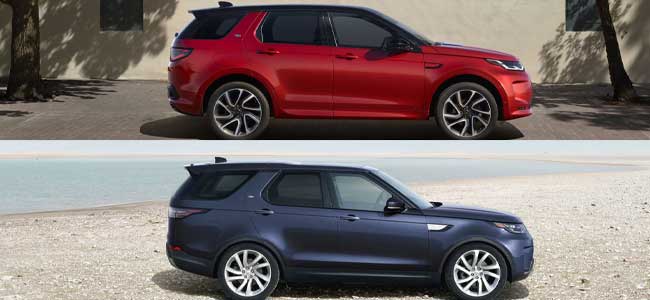 Land Rover SUVs are known for their luxury style and capable form. Both the 2019 Land Rover Discovery along with the 2019 Land Rover Discovery Sport has a lot to offer discerning owners. How do you pick the right model from Land Rover Cherry Hill? We have the complete comparison for you.
Land Rover Discovery Differences
Let's start with the performance. The Land Rover Discovery is equipped with a 3.0-liter engine that pumps out 340 horsepower. The Sport model comes with a 2.0-liter turbocharged four-cylinder that outputs 237 horsepower instead. It also has a smaller fuel tank at 18.1-gallons instead of 23.5-gallons. Furthermore, the Sport tows 4,409 pounds, but the Discovery can handle 8,201 pounds.
When you look at the features, we don't see too many differences. Both models have room for five to seven passengers. The Discovery has 43.5 cubic feet of cargo room while the Sport has 34.6 cubic feet. Both of them have advanced tech features. For example, the Discovery comes with an available Touch Pro system with a ten-inch HD touchscreen, while the Sport model has the InControl Touch available. There are also a handful of sound systems to pick from with either model.
Which Land Rover is Right for You?
Now you see the differences between these two Land Rover SUVs; which one is right for your family? Whatever your choice is, you can find a great deal at our premier Land Rover dealership. If you still aren't convinced that one is better than another, take them both for a test drive. Whether you want a new or used Land Rover in Philadelphia, we can find the model that suits you best. Stop in today and discuss your options with our expert team members. You will be amazed at some of the Discovery and Discovery Sport lease deals happening right now.