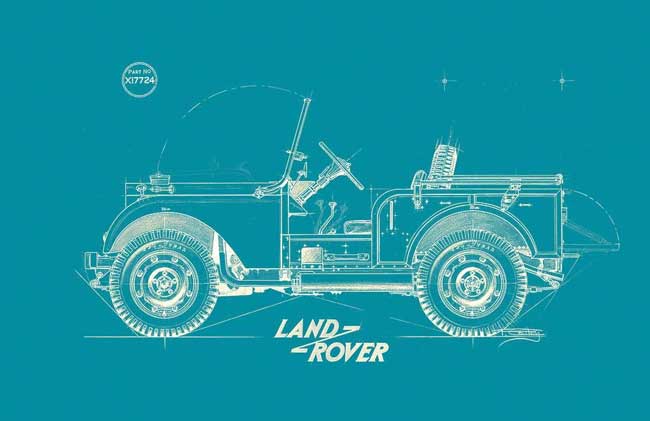 Have you ever wondered how your favorite luxury brand started? Actually, the very first Land Rover design was seen in 1947, with the Rover Company. This bicycle company helped start the brand you've come to love. At Land Rover Cherry Hill, we want to keep you informed, so we've put together this quick history lesson for you.
Beginnings of Land Rover
Back in 1947, Maurice Wilks and his brother created the Land Rover design for the Rover Company. It was based on a Jeep chassis and axle. Then, a year later, the model was debuted during the Amsterdam Motor Show. Because there was a paint shortage from the war, the only color available was army green.
After that, the company underwent many changes. In 1967, it changed its name to Rover Triumph and was owned by Leyland Motors. During 1970, the flagship model, the Range Rover was released. By 1976, the one millionth Land Rover was sold.
Two years after that, the company changed its name to Land Rover and became part of British Leyland Motors. It was in 1987 that the brand first made its way to the United States. Two years after that, the company released the Land Rover Discovery and its rugged design.
Land Rover Today
It was 2000 when Land Rover Limited was sold to Ford Motors. Then, in 2005, the Range Rover Sport was introduced. Two years after that, Land Rover sold its four millionth vehicle. In 2008, Tata Motors purchased Land Rover and Jaguar, creating the Jaguar Land Rover Limited company. The Range Rover Evoque was unveiled in 2011 and the Discovery Sport entered the market in 2015. In 2017, the Range Rover Velar first hit the scene.
Now, the company has a full lineup of vehicles you want to drive. This storied brand has built a solid reputation and continues to be a leader. That's why it's the perfect time to own a Land Rover Defender in Philadelphia. When you visit our dealership, you can find a new or used Land Rover for sale in Philadelphia. We have the selection you want at prices that make you happy.